Good afternoon Raider Fam!!! The Midwest Central Athletic Boosters present "A Night At The...Races!!!" The Boosters would LOVE to have you there!!! This is our biggest fundraising event of the year!!! Happy Hour starts at 5:00 PM, and dinner will be served at 6:00 PM. Dinner only is $25.00 and dinner and Raider Backer is $125!!! The event takes place on Saturday, February 25th, 2023, at the Forman Center in Manito, IL. It is highly encouraged to wear you best derby attire! The Raider Backer this year is a limited Edition Vest! Please see the attached flyer to see how to RSVP!!! The QR code is attached as well. Any questions please reach out to Christine Dierker, Mike Canada, or any of the booster board members!! WE ARE SOOOOOOOOOOOOOOOOOOOO EXCITED!!!!! We hope to see you there!!!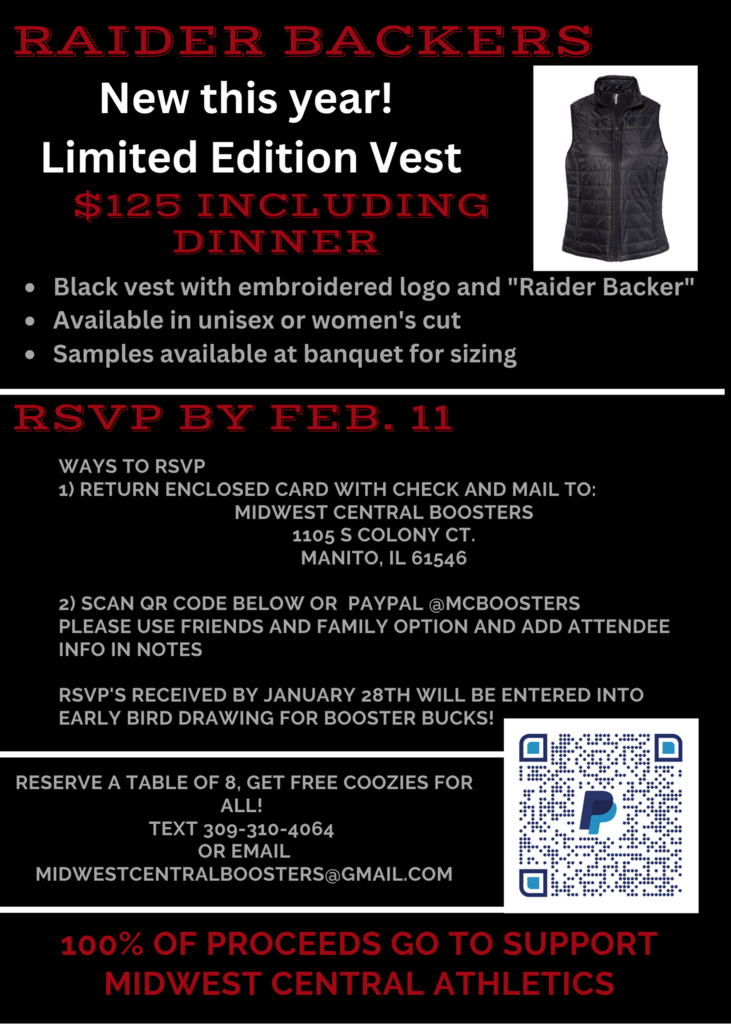 Join our team!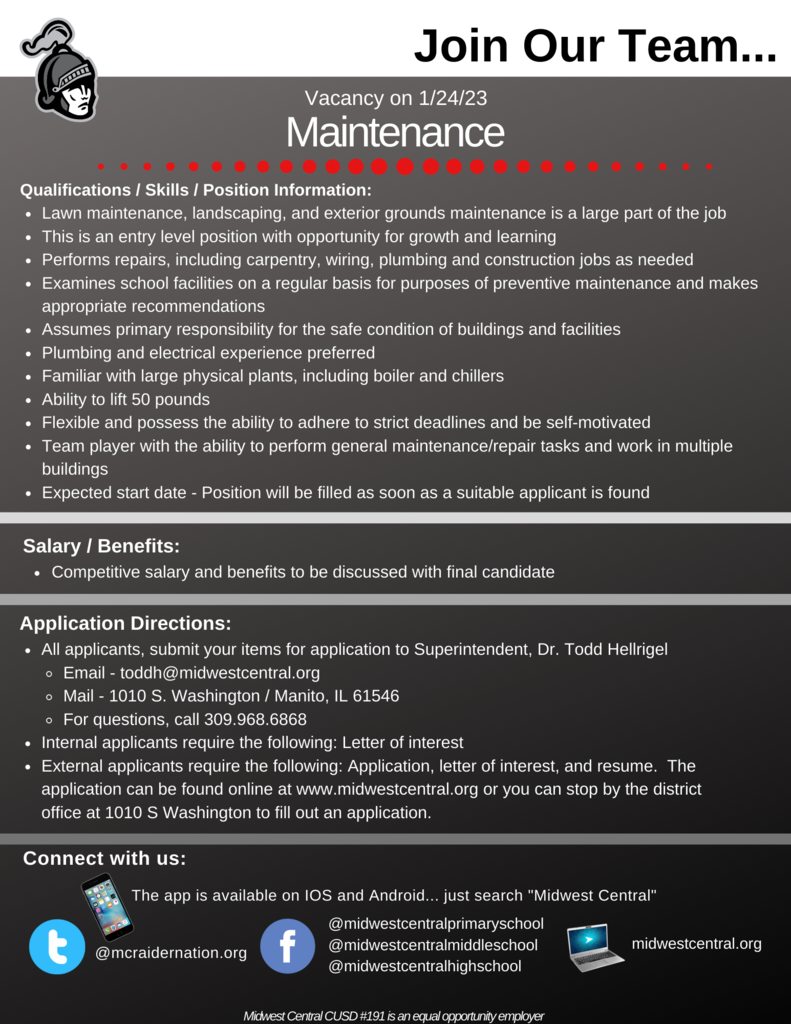 Happy Martin Luther King, Jr. Day!

Reminder - No School on Monday, January 16th.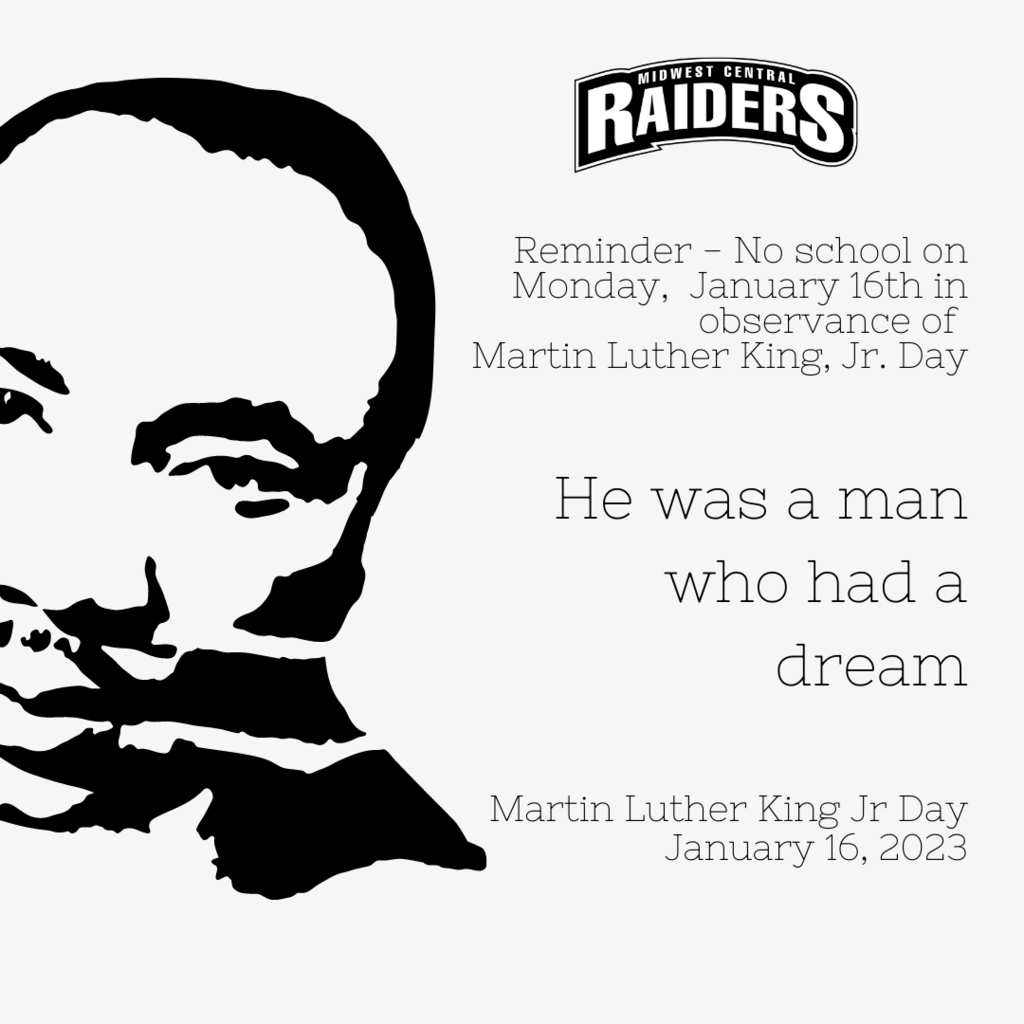 Join our team!

Join our team!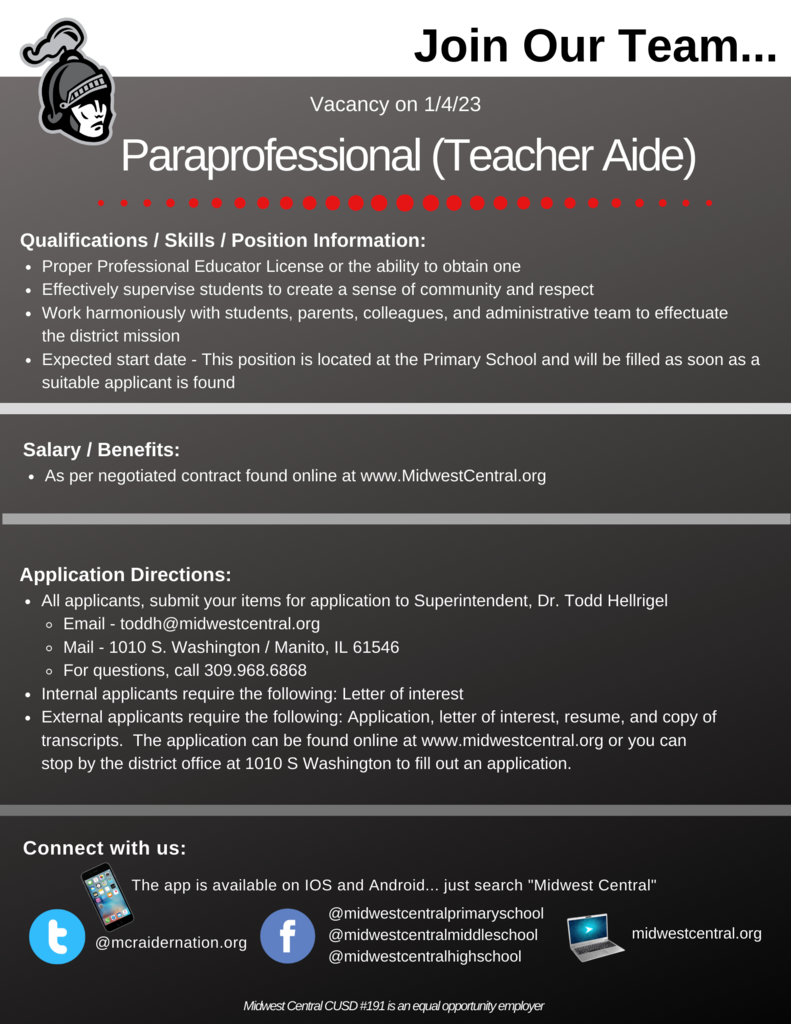 DONATE BLOOD TODAY! Forman Center 1:00 -5:30 PM Appointments still available, walk-ins welcome. Support the MCHS National Honor Society AND save lives! It's a WIN WIN!!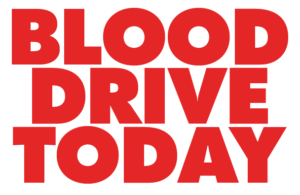 The Boys Basketball team will travel to Parkview tonight for a game. Game time is 5:00 PM! Good luck Raiders!!!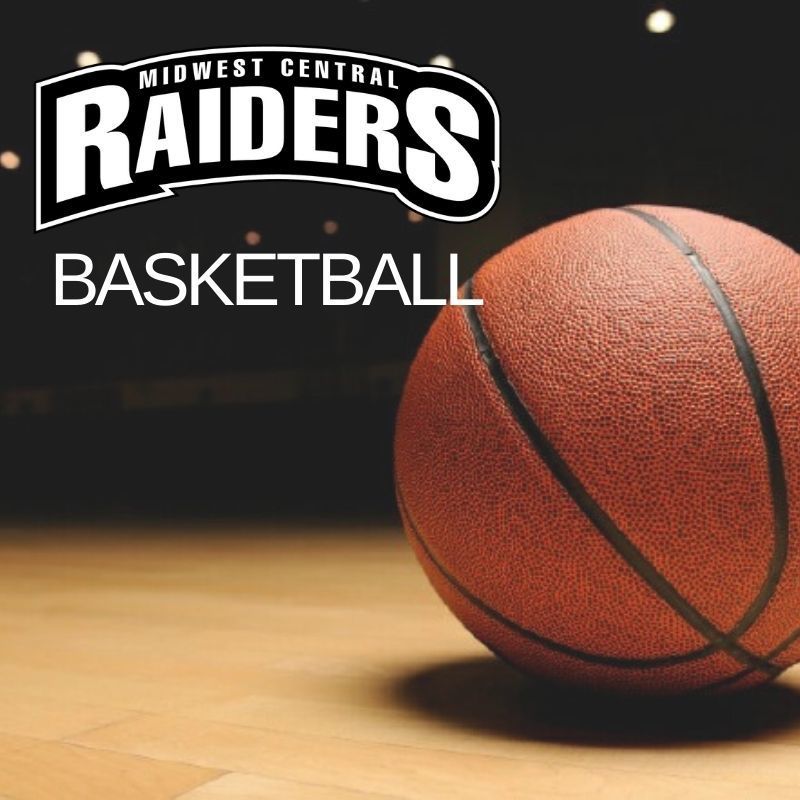 Wishing our Raiders community a very HAPPY and safe New Year!!!! We'll see students back soon... January 4th. :-)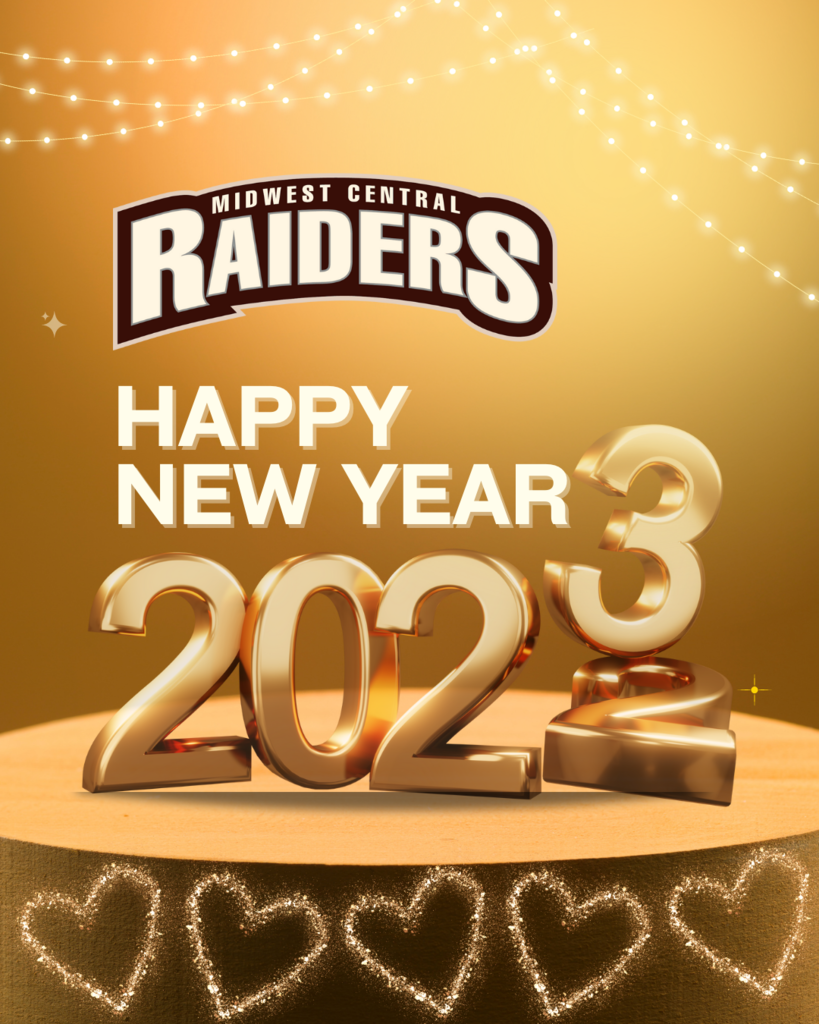 Merry Christmas!!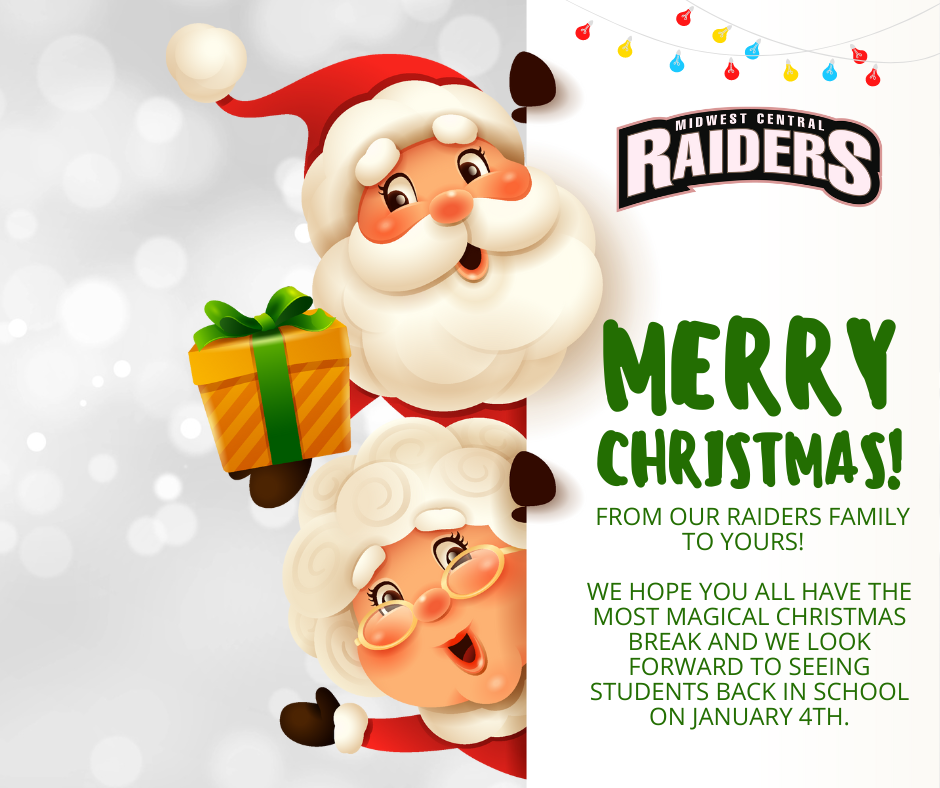 Today is our last day of school before Christmas Break starts. We hope you all have the most magical time with your families over break. We look forward seeing all students back on Wednesday, January 4th! Merry Christmas and Happy New Year, Raiders!!!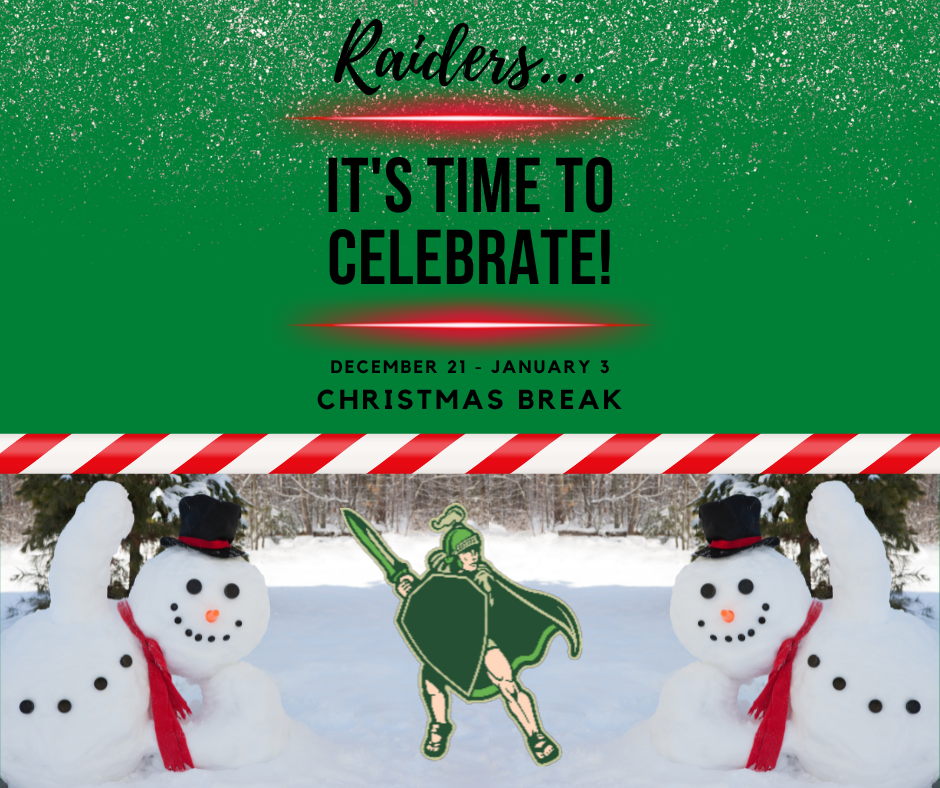 Midwest Central is now using a website for our HS and MS athletics and scholastic bowl information. You are able to view schedules and other sports related information from this site. It can be accessed from our HS and MS websites by selecting Menu - Athletic Schedule. Some of the locations of our opponents are still being inputted into the program at this time.
https://il.8to18.com/midwestcentralhs/home

Hello Raiders, The Affordable Connectivity Program (ACP) is a program that provides a $30 monthly discount on home internet. All Midwest Central student households qualify because we are a Community Eligibility Provision (CEP) district as part of the National School Lunch Program. The link below will take you to the site at which you apply. Nearly all internet providers participate in the program. The application process is fairly painless. Here are some tips for applying. 1. Use your students legal name on the website that matches the name used for school enrollment. Only one student per household is necessary. 2. Call your students school and request a letter for proof of enrollment be emailed to you. They only take a .jpg (picture) or .pdf so we'll send you an electronic letter of proof of enrollment. 3. There may be individual steps your service provider requires. Work with your provider on those. 4. Website link (hit apply now).
https://www.affordableconnectivity.gov/
Best, Dr. Todd Hellrigel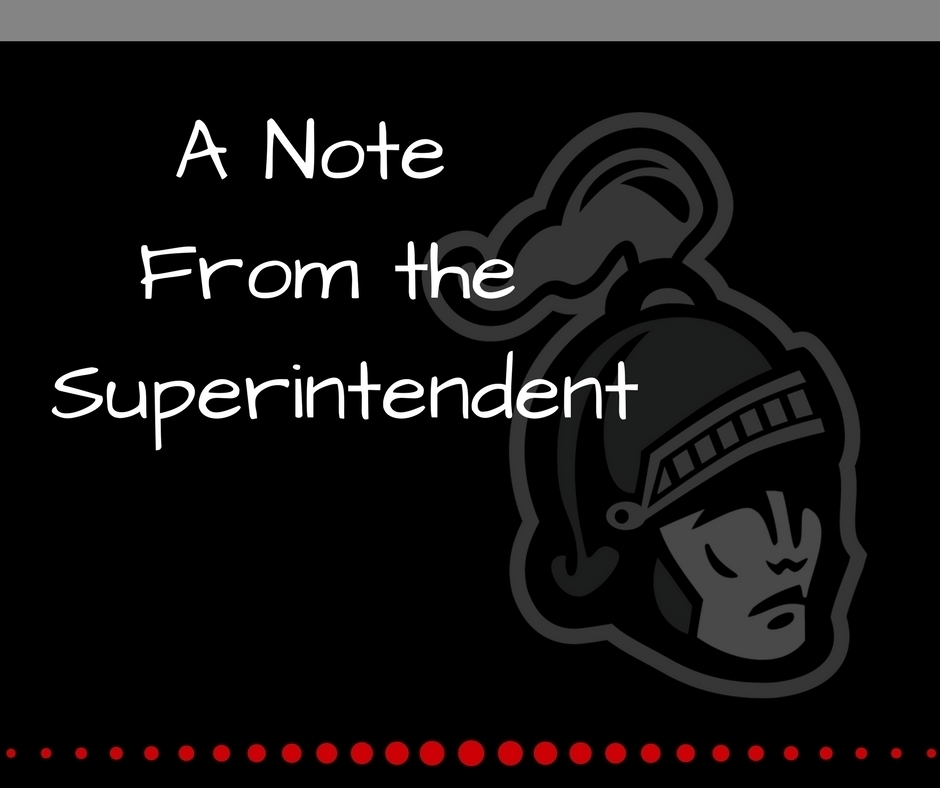 Hope to see you!!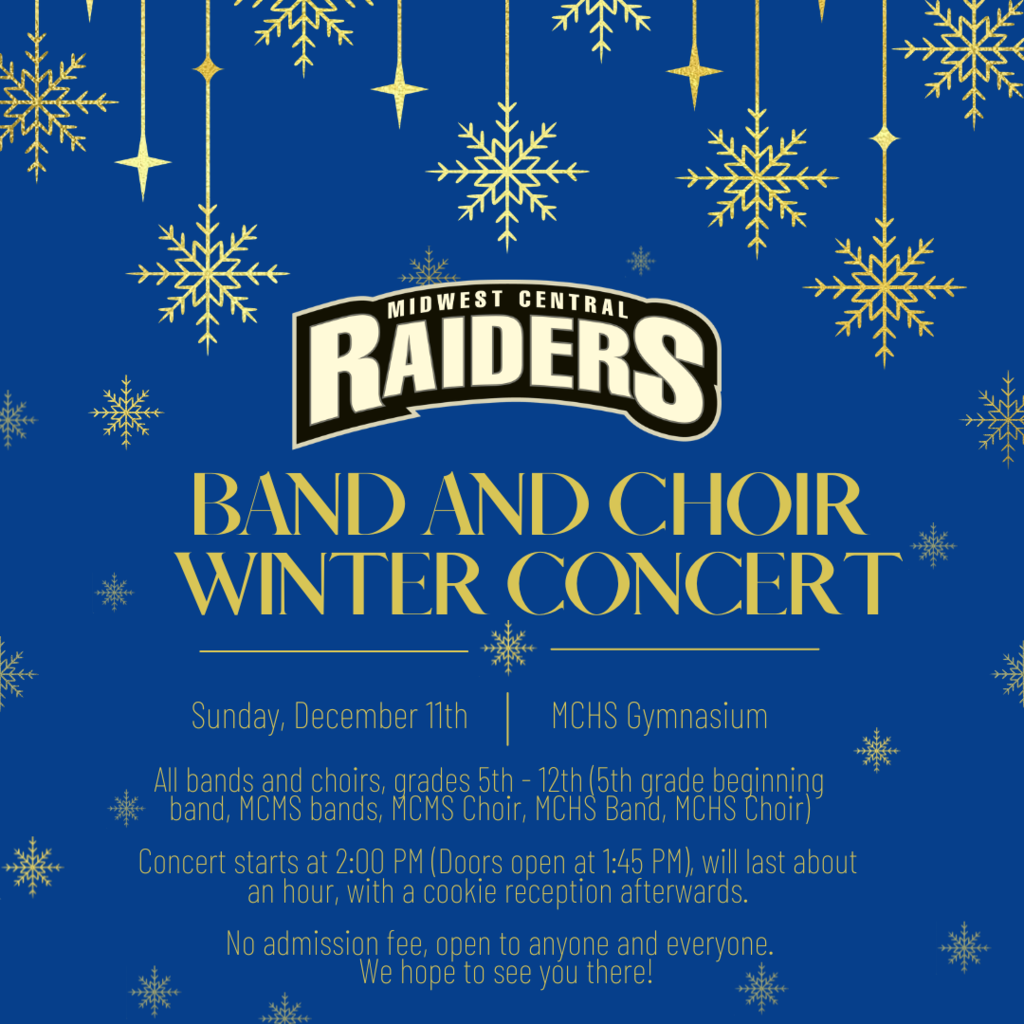 Join our team!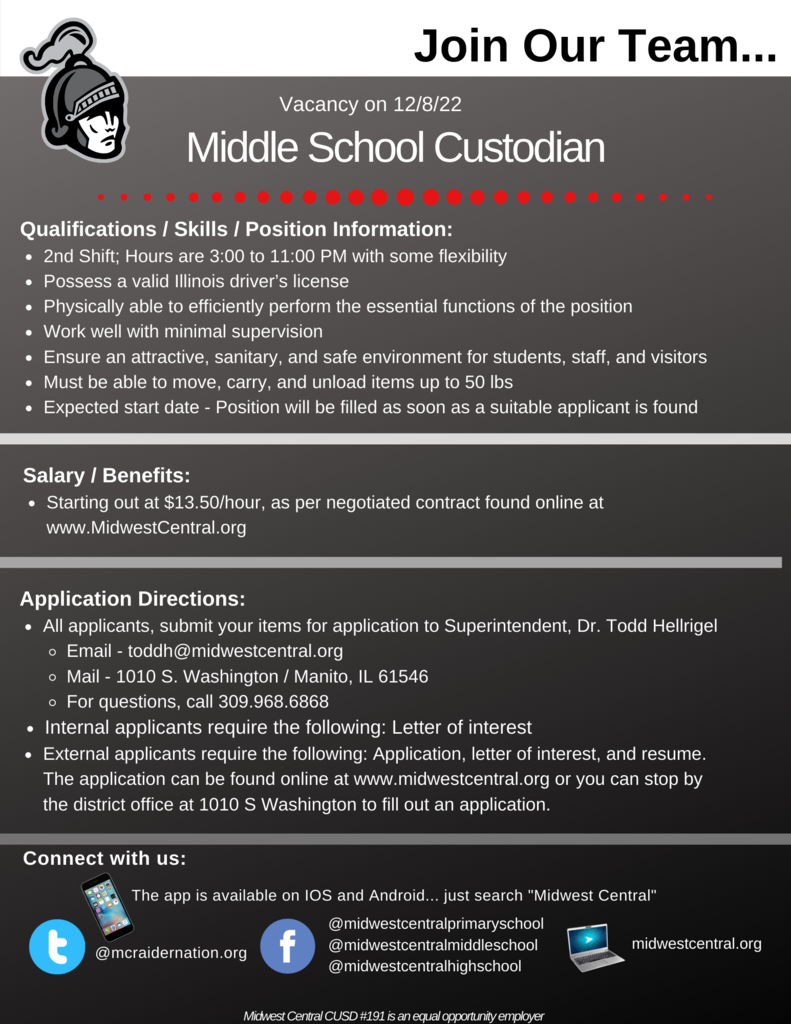 Snow Buddies... it's almost time for present pick up!!!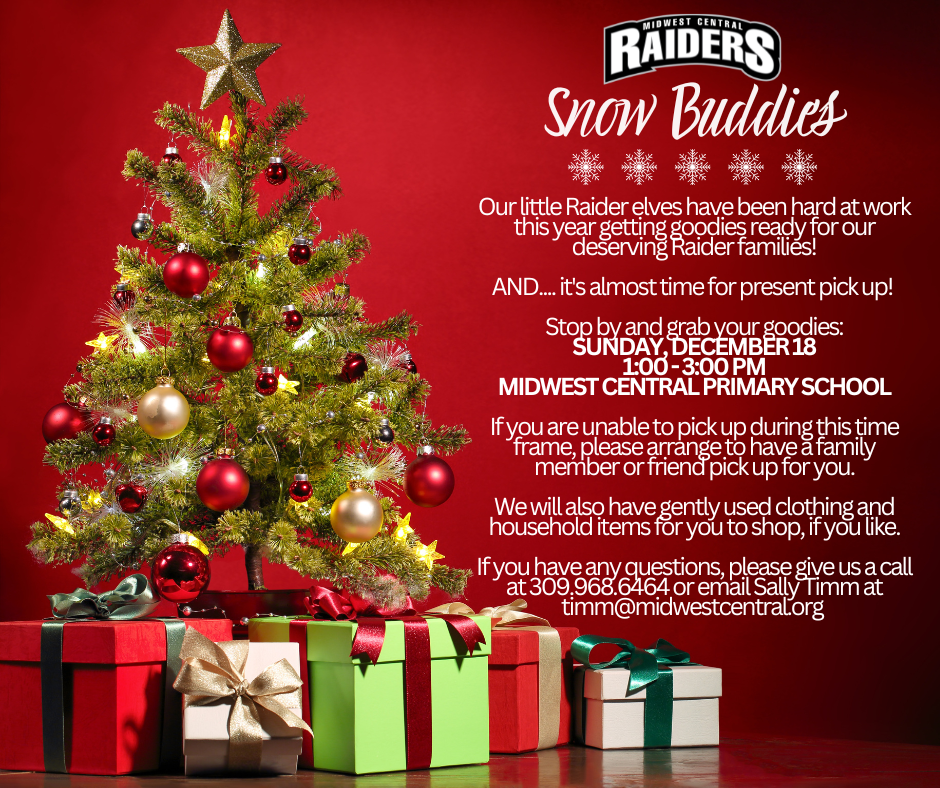 Wishing all of our Raider families a very Happy Thanksgiving!!!!!!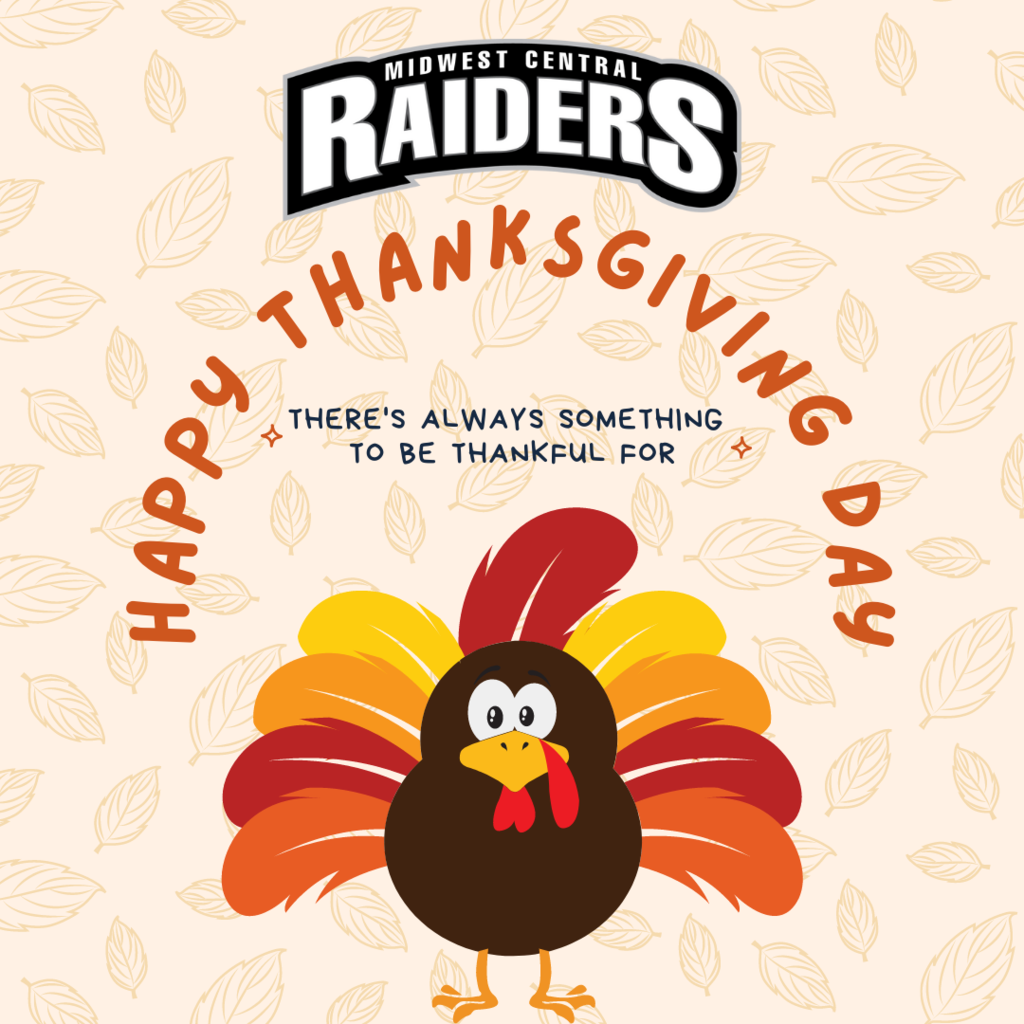 We need your help! We currently have 27 families still up for grabs in our Snow Buddies program. Can you help support a child / family in need in our community? If you don't have time or don't like to shop, we have elves that will do the shopping for you. All you have to do is drop off your cash or check (made payable to Midwest Central with "Snow Buddies" in the memo line) to any of the school offices. All presents need to be turned in by 12/12/22 to the Primary School. If you have questions or want to know more, give us a call at 309.968.6464 or email Sally Timm at
timm@midwestcentral.org
.

Great Job cast, crew, Mrs. Appell, Mrs. Fisher, and parents on the Middle School musical Matilda!!